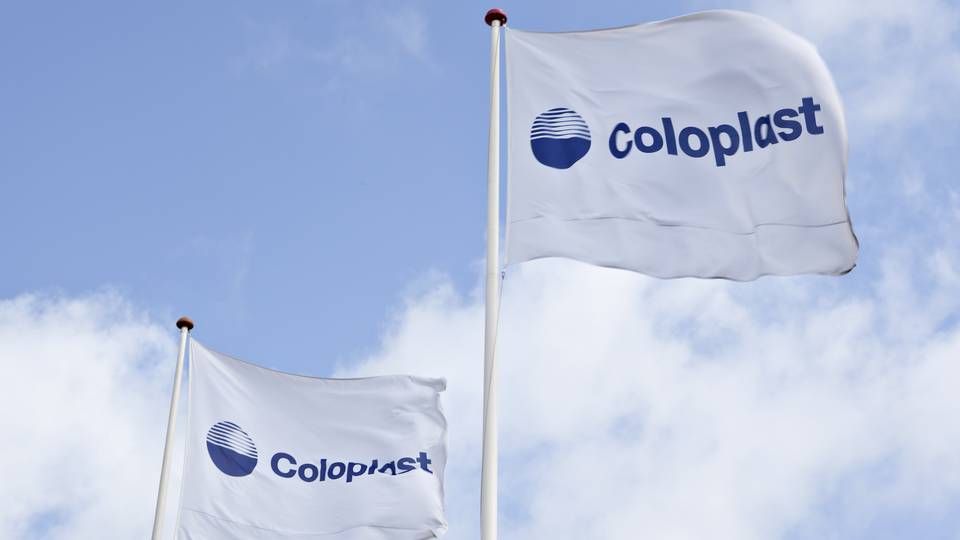 All four business divisions at Coloplast achieved growth during the third quarter of this financial year, shows the medical technology company's third quarter interim report for fiscal 2020-2021, published Wednesday at noon local time.
The group upgrades its annual guidance, now targeting organic revenue growth in the low end of the interval 7-8 percent measured in fixed currency rates, while reported growth in Danish kroner is maintained at 4-5 percent.
At the same time, the company also notes that its reported profit margin before special items is forecast to land in high end of 32-33 percent, adding that the earnings margin after extraordinary posts is expected to hit the upper side of 31-32 percent.
All units advance
As mentioned, Coloplast's Q3 statement shows growth in all four business area.
Thus, the medtech firm's first business unit, Ostomy, notes quarterly sales of DKK 1.915bn (USD 301.8m) against DKK 1.870bn from the same period last year, while organic growth – omitting currency fluctuations and acquisitions – ended up at 4 percent.
For the second-largest unit, Continence, quarterly revenue comes to DKK 1.744bn, slightly up from last year's fiscal Q3, which totaled to DKK 1.680bn. Meanwhile, organic growth came to 5 percent in the quarter.
"During Q3, hospital activity increased as vaccines were rolled out and as a result growth in new patients within Ostomy Care normalized towards pre-COVID levels across markets. Growth in new patients within Continence Care is taking longer to normalize as expected, but the trend during Q3 was positive across markets," Coloplast writes in the interim statement.
The main advance, though, comes from Urology, which in fiscal Q3 achieved organic growth of 82 percent and year-over-year sales tallying to DKK 542m against 313m. According to Coloplast, this is due to "broad-based recovery in elective procedures led by the US and Men's Health, as well as a lower baseline."
In Coloplast's Q3, Skin & Wound Care brought in DKK 634m and organic growth of 17 percent.
Revenue disappoints – bottom line beats forecast
Looking at the consolidated business, Coloplast's total quarterly revenue came to DKK 4.835bn and thereby slightly overshot analyst estimates.
Concerning estimates compiled by Coloplast among 18 analysts, quarterly consensus came to DKK 4.884bn, reports Danish news agency Ritzau Finans – a notch above the comparable period of the year prior when the top line came to DKK 4.419m.
The Q3 earnings margin before interest and taxes is booked at 33 percent, which, conversely, is slightly about the market outlook of 32.4 percent. For comparison, Coloplast's EBIT margin was 31 percent in 31 percent.
Altogether, the medtech firm closed the quarter with a net result of DKK 1.254bn, which is a little more than analysts had projected as well as what the company achieved year over year. Quants predicted a net result of DKK 1.225bn against last financial year's DKK 997m.
Analyst forecasts YoY quarterly growth for Coloplast following virus year
New Coloplast Senior Vice President: MDR will guide our innovation focus in the future
Coloplast sees potential in Russia