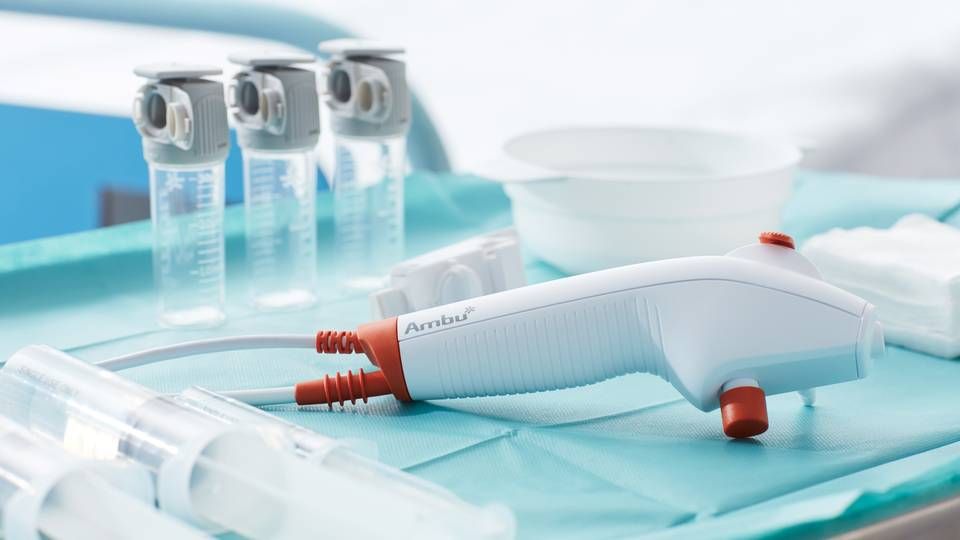 Danish medical technology firm Ambu's interim financial statement for this year's fiscal third quarter will hardly come as much of a surprise, considering that the company already disclosed intermediate guidance figures for its staggered 2020-'21 fiscal year on July 1. This took place in the wake of stunted growth, rising costs of both raw materials and transportation and, not least, troubles with logistics only reinforced by bottleneck issues in China – all cutting into profitability.
Ahead of closing its Q3 accounts, the company notes weaker demand for non-acute health consultations, thereby hitting the core business covering areas ranging from anesthesia to patient monitoring and diagnostics (PMD).
At the same time, Ambu counts on flat development within its Visualization division, positively affected last year by Covid-19, writes Søren Løntoft Hansen, senior analyst at Danish bank Sydbank, in anticipation of Ambu's financial statement.
Quarter marked by Covid-19 and bottlenecks
Ambu's core business is slated to show organic growth of 15 percent during fiscal Q3, despite a fall in demand for products related to non-acute consultations.
The Visualization division is expected to show a flat development curve against the preceding year's 81 percent organic growth. Quarterly endoscopy sales are projected to hit 380,000, while revenue is forecast to land at DKK 522m (USD 82.7m).
Here, the interim report could reveal news about Ambu product Ascope Duodeno 1.0 and its upgrade, as well as provide information on the forthcoming new version, Ascope Duodeno 1.5.
Like many other companies, Ambu is also burdened by logistics problems, complicated further by bottlenecks in container shipping at South Chinese ports, thereby hampering growth, Hansen writes.
Declining revenue and rising costs
For Ambu's third quarter, the bank foresees a retreat compared to the same period last year due to a revenue slump and increasing costs.
"The setback is a consequence of slowed top-line growth, rising costs for raw materials and transportation, and a negative currency effect," says Hansen:
"We also expect cost hikes on sales and distribution owing to the decision to expand Ambu's global sales force within Visualization. Add to that rising administration costs and expenses for research and development."
Sydbank forecasts earnings before interest and taxes of DKK 76m – corresponding to an EBIT margin of 7.8 percent against 16.5 percent booked for the comparable period of the year prior.
On July 1, Ambu downgraded its full-year guidance for 2020-'21, now targeting organic growth of roughly 17 percent relative to the former 17-20 percent, and an earnings margin before interest and taxes of 10 percent, down from the prior 11-12 percent goal. Endoscopy sales are projected to bring in DKK 1.4m against DKK 1.3-1.4 from the former outlook.
The senior analyst expects this guidance to be maintained, he writes in a comment.
FDA approves single-use bronchoscope from Boston Scientific
Olympus upgrades guidance following better-than-expected report
Boston Scientific reports significant growth in endoscopy business – grows 54 percent
Ambu brings plans for Mexico factory forward