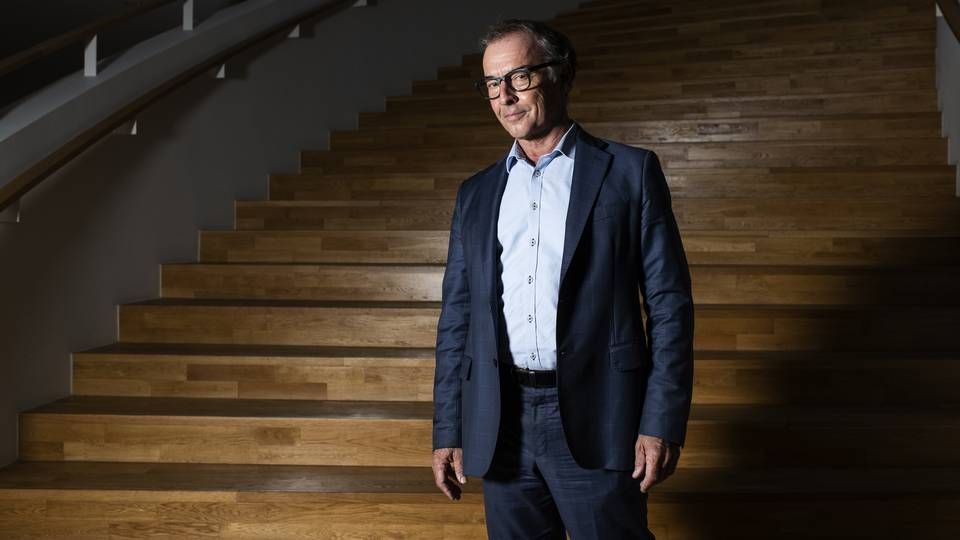 Novo Nordisk dreams big, but the firm's large stakes on treating Alzheimer's may or may not lead it on a path to the pharmaceutical industry's boulevard of broken dreams.
Still, Novo Nordisk is more than willing to make that bet.
"Even with a profile that is high risk compared with how we usually operate at Novo Nordisk, our estimate was that aside from the massive patient's need, this is also a well-calculated and positive business case. In spite of the risk," says Novo Nordisk Executive Vice President & Chief Scientific Officer Mads Krogsgaard Thomsen.
This decision was made in the wake of a thorough process based around a wealth of data and conversations with professors and experts and dialogs which the firm had with the US and European health authorities.
This development also happens at a time when the whole world is screaming for better treatment possibilities for the much-feared brain disease.
The last time a new drug was approved for the treatment of Alzheimer's was in 2000, disregarding 2014, where to two older drugs were approved as combination treatments. Drug candidates against Alzheimer's actually have a 99.6 percent failure rate.
"Naturally, this calls for us to keep calm and think about this thoroughly," says Novo Nordisk's Senior Vice President, Global Development at Novo Nordisk, Martin Holst Lange.
Huge potential
As it is, the minimal chances of success involved in this endeavor are also the main reason for the massive business potential.
Nordea's health care analyst Michael Novod has previously estimated that Novo Nordisk would achieve sales at around USD 5bn just in 2030 for the treatment of diabetes patient subgroup.
"Now, Novo's decision to start the development in early Alzheimer's is more broad. For this reason, our simplified calculations may be considered conservative," he writes in a note.
The major program will include around 3,700 patients with early Alzheimer's and is expected to begin in the first half-year of 2021. Its purpose will be to evaluate effect and safety compared with placebo and it will last around two years.
Novod expects that the first data will be ready in the second half-year of 2023.
"This gives the share an excellent option and upside," the analyst writes.
Molecules for the treatment of diabetes
This program will have the molecule semaglutide in tablet form. The same molecule is already approved for the treatment of diabetes under the names Ozempic for once-weekly injections and the name Rybelsus as a tablet.
This has multiple advantages. Firstly, many patients fear needles, and secondly, it's more difficult to copy Novo Nordisk's tablet because of the underlying technology and patents on which it is built.
Novo Nordisk is sparse with information, when it comes to the exact sales potential which the drug might unleash, if it is successfully brought to market.
"We have performed our own market analyses of the potential and the growth which will turn up, when active the drugs start being presented to patients. We don't comment specifically on this," Mads Krogsgaard Thomsen says.
The general rule of thumb is that it costs around DKK 1m (USD 164,170) per patient to run a phase III Alzheimer's trial. Adapted to Novo Nordisk's program, this would add up to around DKK 3.7bn.
Novo Nordisk does not wish to provide further comment on the costs. Mads Krogsgaard Thomsen however states that the costs will end up somewhere between 4 and 6 percent of the total research and development budget for the next four years.
These days, this is at around DKK 15bn annually, and it is expected to increase in absolute figures over the following years due to Novo Nordisk's growth increase. Keeping with this calculation, the aforementioned costs might amount to around DKK 3bn.
Duty-bound endeavor
This endeavor arrives at a time when the market has focused intensively on Novo Nordisk's movements in this area for just under a year. It's a question worth asking, if this announcement arrives now, at a point in time when Novo Nordisk is much stronger than it was just a few years ago.
"We have gained some confidence in the sense that we have moved from standing on one very large leg, being that of diabetes, to understanding more generally that Novo Nordisk can make a difference in obesity, in cardiovasculardiseases, in NASH, in rare diseases and more," says Krogsgaard Thomsen.
He emphasizes that Novo Nordisk feels duty-bound to give it a try for ethical, as well as for business-related reasons. This is because the trial is launched with a steady drug, which can hopefully make a difference particularly for Alzheimer's disease.
"With the growth we can foresee in the coming years, Novo Nordisk must be able to take bigger calculated risks than when we were a smaller company," Krogsgaard Thomsen says.
Danske Bank's Senior Portfolio Manager Claus Henrik Johansen shares Novo Nordisk's optimism. He sees it as a positive that Novo Nordisk can launch the program next year already, and he calls it interesting that Novo Nordisk has opted to run a trial which will "only" last two years.
"The sum of many small parts have now brought a great year for us, I should say," notes Krogsgaard Thomsen.
Would you like to receive the latest news from MedWatch directly in your e-mail inbox? Sign up for our free English newsletter below.
Novo Nordisk files for EU approval for obesity treatment
Novo Nordisk to start phase III trial with tablet for Alzheimer's
Media: Europe aims for vaccine approval on Dec. 23
Novo after crucial data from competitor: Welcomes drug R&D
Former Novo Nordisk employee plans to revolutionize market for insulin pens